Real Estate Loans & Mortgages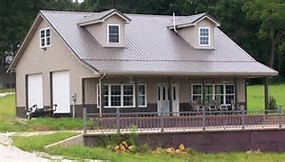 Lending with your needs in mind.
Whether you are a first time home buyer or are buying your forever home, The Farmers State Bank has a loan for you. We also offer several different loan products, such as refinance, cash out refinance, and equity loans.
Unique properties are our specialty ! We love shop-style homes, earth contact homes and multi-use residential properties. If you have been told "no" before because your property is uniquely yours, you need to contact us today.
FSB offers the following Consumer Loan Products:
To get started, we will need a completed application. Contact a lender to request an application. Once a completed application is received, we will provide a Loan Estimate and any applicable disclosures for the loan program you have requested. If you would prefer to complete this in person, please call to schedule a time to get together…either by phone (785.364.4691) or in person.
Contact a lender to inquire further about an residential real estate loan with The Farmers State Bank. We look forward to hearing from you! PLEASE NOTE:  Transmission of email is NOT secure.  For your safety, do not include personal information such as your social security number or account number with any message sent by email.  Please access Secure Document Drop Box to send the Bank confidential information.
Construction Lines of Credit
We offer a fixed-rate, 12-month loan during the home construction phase. Our construction loans are user friendly, and allow you to be your own general contractor. Once the house is complete, we can help you with the permanent financing, as well. 
Adjustable Rate Mortgages (ARM)
We offer in-house adjustable rate mortgages where the interest rate is fixed for the 1, 3, or 5 years of the loan. After that time, the rate will adjust annually. Adjustable rate loans typically come with lower initial rates than with other home loans, and rate caps protect you by limiting the amount your rate can increase. Origination, closing, and servicing stays completely with The Farmers State Bank. This is the most popular product that we offer, due to the low cost, local underwriting that is available. 
Conventional Loans
Another option are fixed-rate home loans not guaranteed by a government agency.
Fixed

Purchases & refinances

Sellers can pay closing costs

Owner-occupied, investor properties, second homes

FHA (Federal Housing Administration)
FHA Loans are a great option designed for low-to-moderate income borrowers who are looking for a lower down payment and flexible qualification guidelines. 
Fixed interest rates
Purchases and refinances
Low down payment and low closing costs
Do not have to be a first-time home buyer
No prepayment penalties
VA (Veteran Administration) Loans
Exclusively for members of the armed services or their surviving spouses (THANK YOU for your service!), this home loan offers the most flexible qualification guidelines. 
100% financing
Fixed interest rates
Buy your home with little or no money down

Low closing costs

Stable monthly payments

No prepayment penalties
Rural Development
Rural Development loans are for low-to-moderate income borrowers, buying a home in rural areas or smaller communities. 
Up to 100% financing
Fixed interest rate

May include closing costs

Sellers may contribute to closing costs

One-time guarantee fee is charged and typically financed

SAFE Act
The Secure and Fair Enforcement for Mortgage Licensing Act (S.A.F.E. Act) is intended to improve the accountability and tracking of residential mortgage loan originators (MLOs), enhance consumer protection, reduce fraud and provide consumers with easily accessible information regarding an MLO's professional background.

The Nationwide Mortgage Licensing System & Registry (NMLS) numbers for The Farmers State Bank and its MLOs are as follows:

Bank - 791589

Tarin R. Wray - 556761
Ryan Befort - 1702166
NMLS Consumer Access
In order to provide home buyers and the general public with greater information concerning the companies and professionals in the mortgage industry and in fulfillment of the federal S.A.F.E. Mortgage Licensing Act of 2008, the Nationwide Mortgage Licensing System & Registry (NMLS) hosts a website called NMLS Consumer Access. NMLS Consumer Access is a fully searchable website that allows the public to view information concerning state-licensed companies, branches, and individuals licensed and registered through NMLS.
Found online at www.NMLSConsumerAccess.org , NMLS Consumer Access is a stand-alone website, separate from NMLS, that contains administrative and licensing information for companies, branches, and individuals licensed or registered through NMLS. 
NMLS Consumer Access is provided without charge to the public.